These are the most inspiring and stunning spring nail designs and spring nail colors you can't miss out on but recreate them.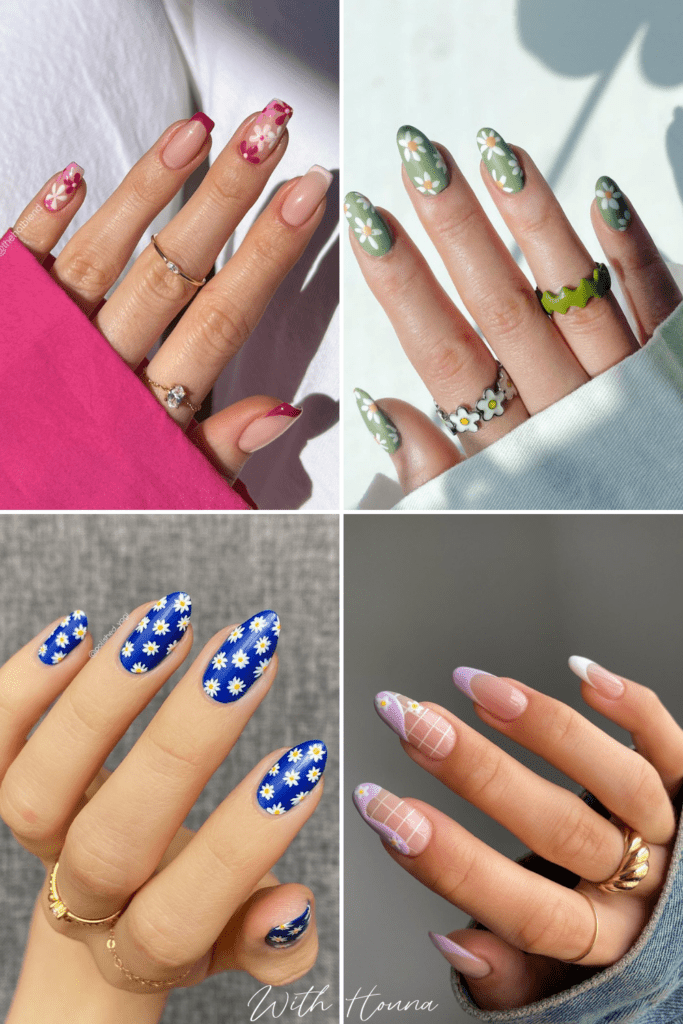 Can spring nail designs have any more meaning than just nails?
When we think about spring, we think about having fun, prettier and warmer weather, blooming flowers and petals adding warm colors to our lives.
But if you think further, you'll realize that spring is also a great time to do away with the old and start afresh (new beginnings).
Isn't fashion and our appearance one of the easiest ways to start again?
Your nails and feet will make appearances in the warm weather spring comes with, and you need to beautify those nails with some beautiful spring nail ideas.
Whether you want to go all fun and bougie in French manicures with hot, trendy color-blocking techniques, or keep it warm with petals, fanciful floral spring nail art, or minimal with simple, short nails, or you want some gradient-looking nail designs.
The truth is, go for what you want and let your nails shine through.
And, if you're anything like me, you'll already have a list of beautiful spring nail ideas saved on your Instagram that leaves you confused.
But how do you know which spring nail designs fit your style? So you can stand out.
In this blog post, you'll find the best spring nail designs to help you take your manicure to the next level, allow your personality to shine through this spring, and get you feeling pretty and warm.
Whether you want to call yourself the next self-made nail artist or if you want some spring nail ideas to take to your manicurist. You'll find some pretty spring nail designs that are perfect for you.
The Best Spring Nail Designs Ever
1. Blue Nails with Flowers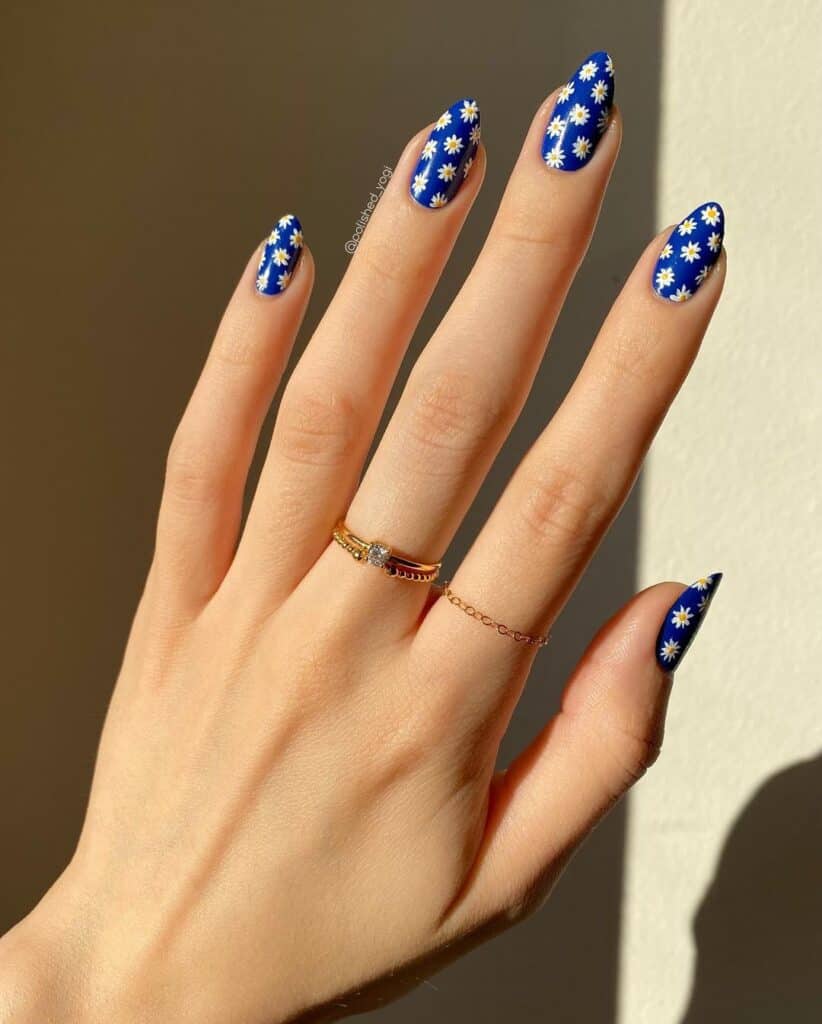 Kicking off the list of stunning Spring nails with a beautiful band is this classic, timeless look that never goes out of style. Delicate daisies appear like raindrops set to the backdrop of a clear blue Spring sky in this gorgeous yet simple Springtime manicure. It's all flower power!
I can't deny the fact I'm obsessed with this Royal Blue nail color along with the daisy flowers makes the best spring nail design of all time.
2. Make Your Own Luck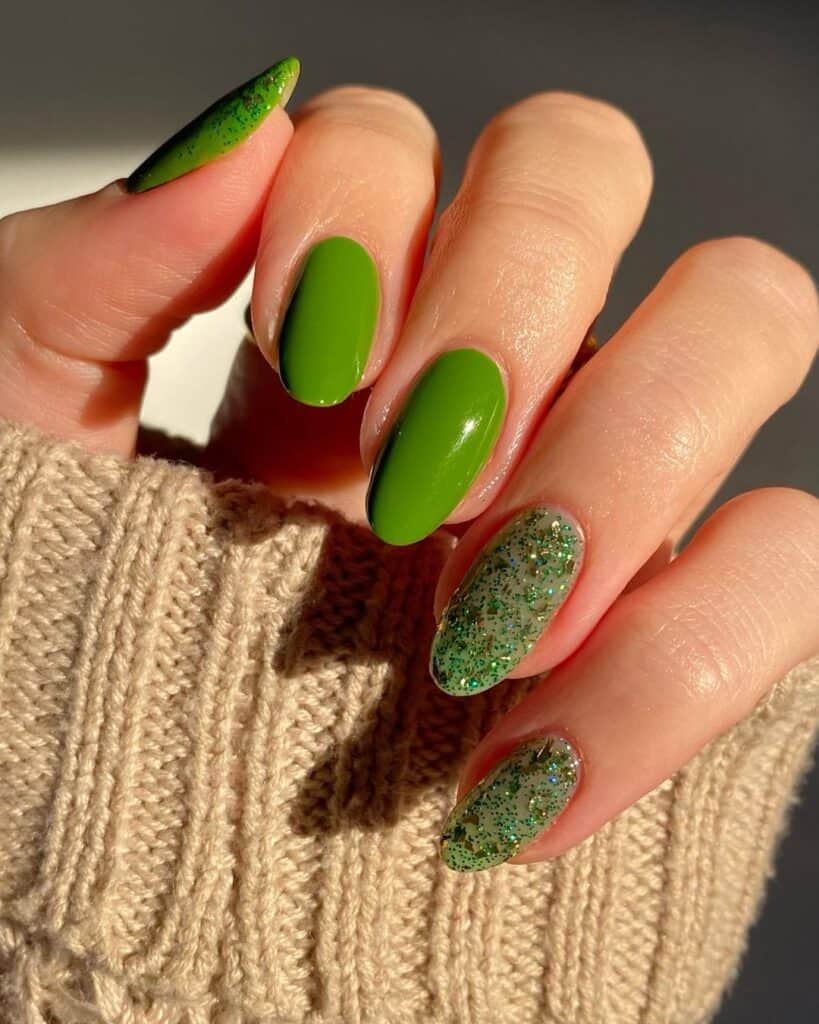 If I had my say, the world would have many more green nail polish looks. These vibrant spring nails draw on the most neglected color of the Spring palette, which in my opinion, makes them all the more brilliant!
To claim this, look as your own, apply two coat of your favorite green nail polish and cure your nails in between for 60 seconds. Then, apply only one coat for the nail fingers you want to use glitter one.
3. Cute Spring Nails
I've been obsessed with the softer looks and hues that have been dominating the beauty scene this year. One thing I'm sure of is that the adorable style won't be disappearing anytime soon, meaning you can paint on these nails now, tomorrow, and any day until Spring and thereafter!
I just love the combination of these spring nail colors. How the green light color blends so well with warm yellow color and the little daisy flowers.
4. Green Tips with Small Flowers
I have a huge soft spot for French tips in all their many style and colors. These fabulous Spring nails are no exception. Somehow the dark green tips work, especially when enhanced by the minimalist flower nail art that can easily be recreated with a tiny brush (or toothpick) and some white nail varnish.
5. Blink Bang Nails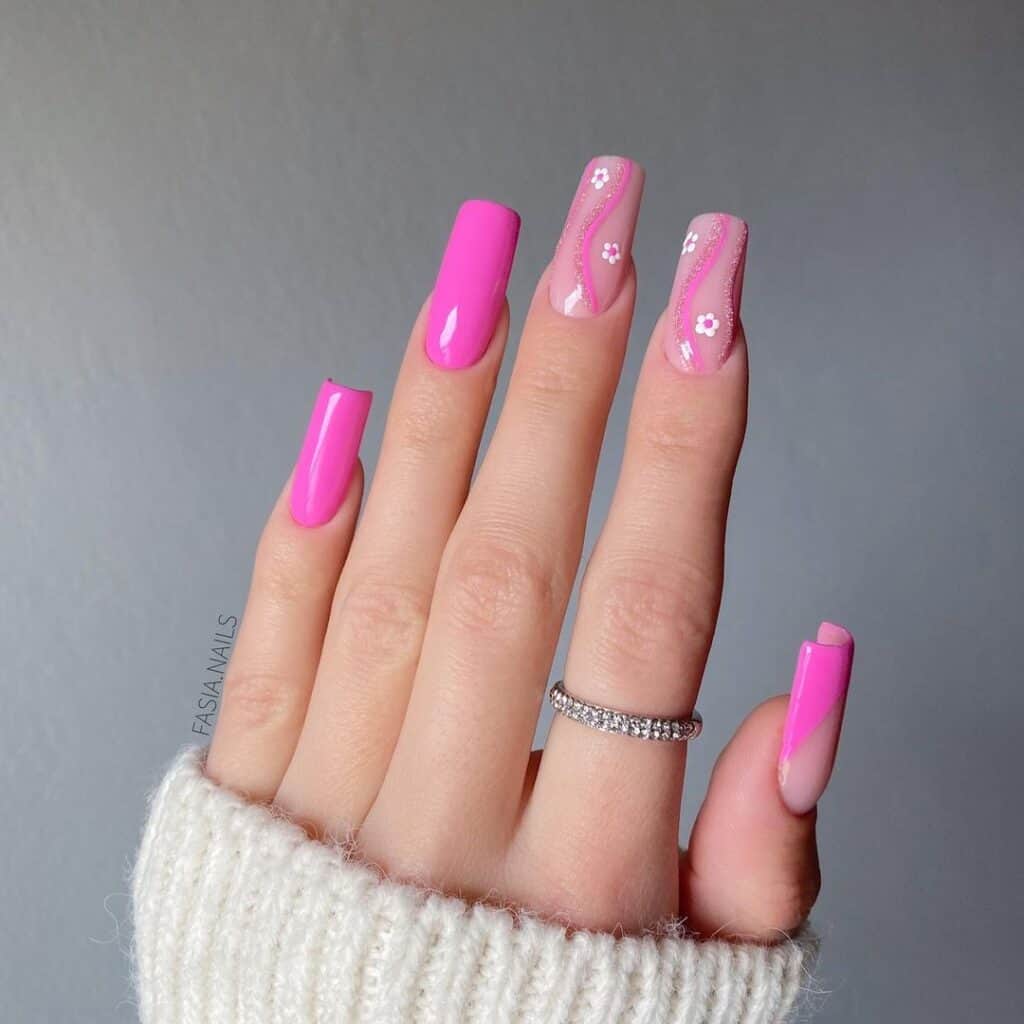 Calling on the more extravagant side of Spring, these nails bloom with striking hot pink that's softened slightly by more lightly colored, adorably decorated nails.
Have you ever though that hot pink can be one of the trendiest spring nail designs ever? Especially for this year.
We're totally in love with this spring nail color to have a refreshing start for spring. Also, the swirls combined with the mini flowers make the whole spring nail idea worth recreating.
6. Royal Blue Nails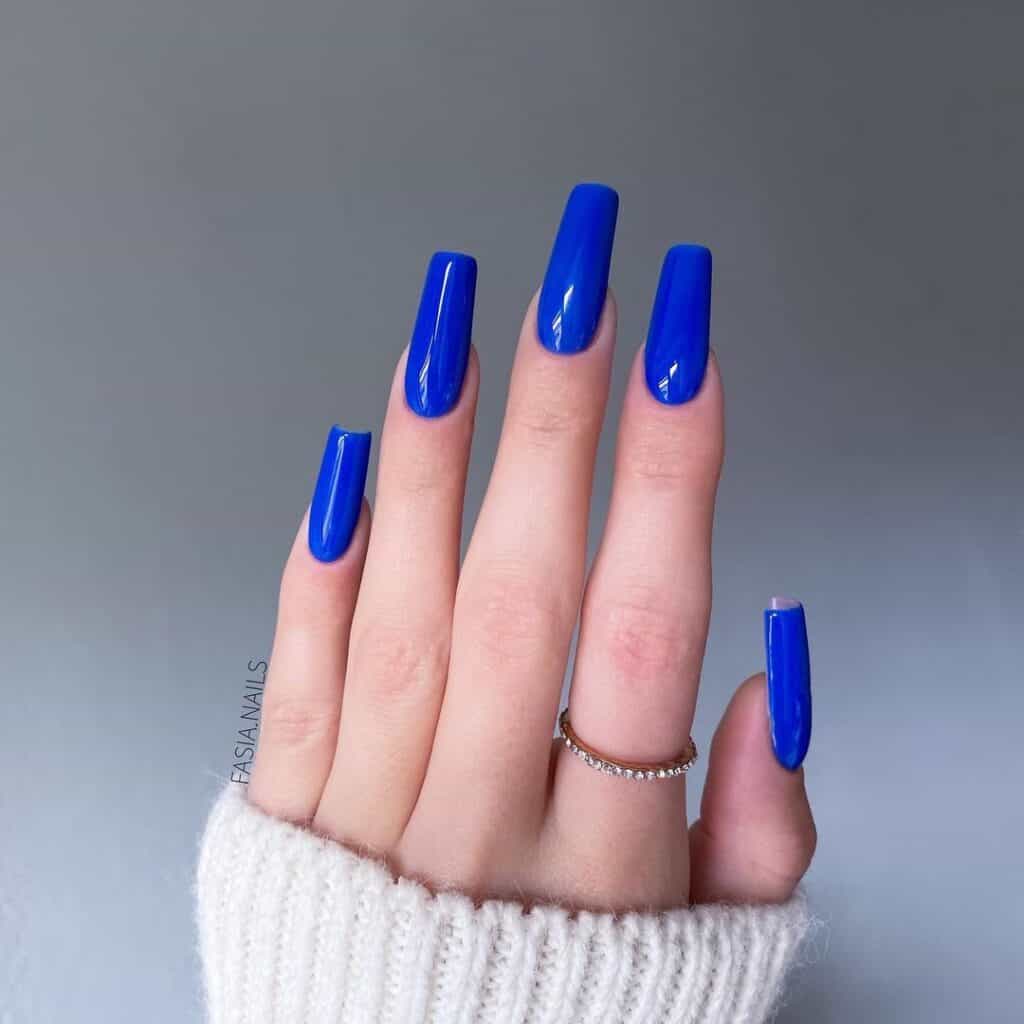 Sumptuous and deep vibes galore with these beautiful blue nails. I love the long style that elongates the hand alongside the striking monochrome blue color that combines chic minimalism and vibrancy to perfection.
If you're looking for a royal looking spring nail design, yet simple and you can ever recreate yourself at home.
After doing all the nail preparations without forgetting to apply a base coat, apply two coats of your favorite royal blue nail color and cure your nails in your UV lamp for 60 seconds in between.
Finish your nail design with extra shine coat and cure your nails for the last time.
7. Mixed Colors Spring Nails
Enjoy the beauty of all the Springtime colors at once with this Spring nails idea that you won't be able to take your eyes off.
Have you ever considered that blue nail polishes and pink gel color are the best combination you have if you're aiming to get the best spring nail design? This spring nail idea is an example of the perfect combination of trendy spring nail colors everyone is obsessed over.
8. Bold and Bright Nails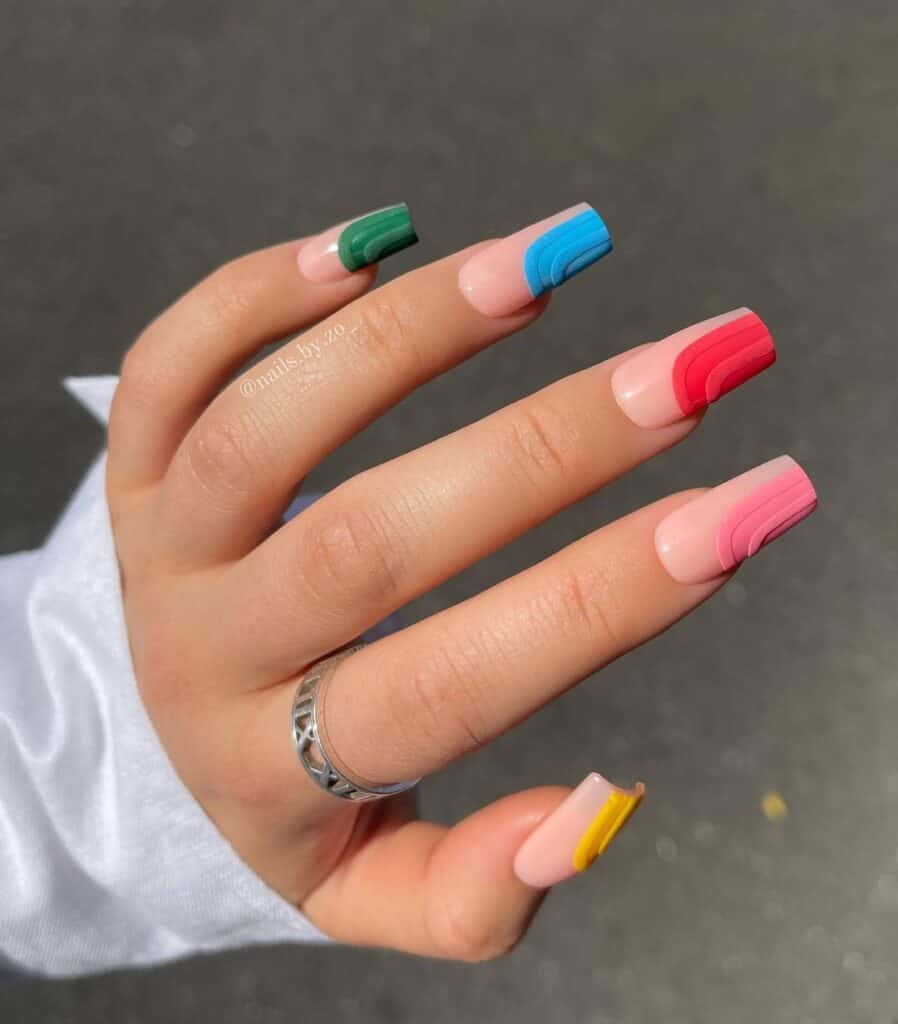 These multi-colored spring nails bring happy nights at the fair to mind, enjoying the dazzling lights, fun, and everything else that springtime festivities have to offer.
They may look difficult to DIY, but the secret lies in layering.
Use a small brush or toothpick to help you precisely apply an extra layer of nail varnish over the dried base for a super cool 3D spring nail look.
9. Tropical Nails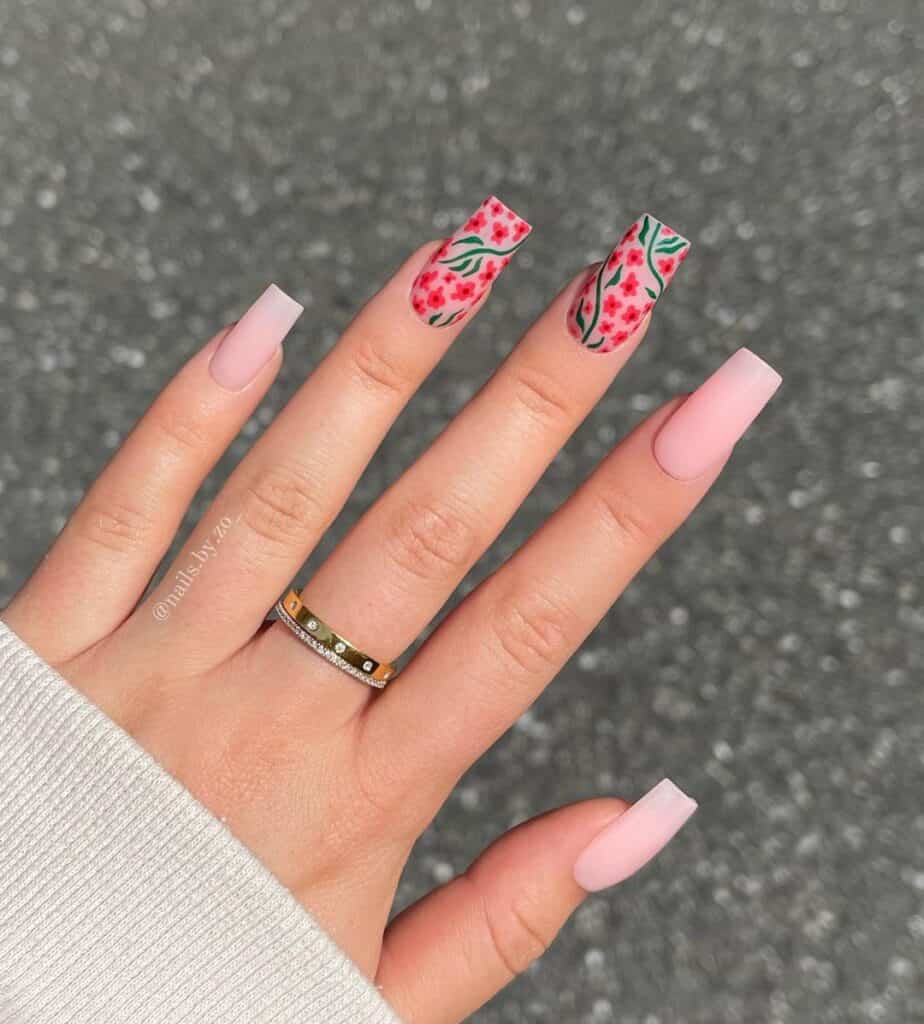 I think of Piña Coladas by the beach when I see these gorgeous spring nail designs that are the perfect mix of pink pastels and subtle detailing.
While it won't be easy to recreate, it'll definitely put your creative skills to the test. I recommend starting with the flowers before running the green vine-like lines between them using a toothpick dipped in green nail varnish.
10. Spring Daisies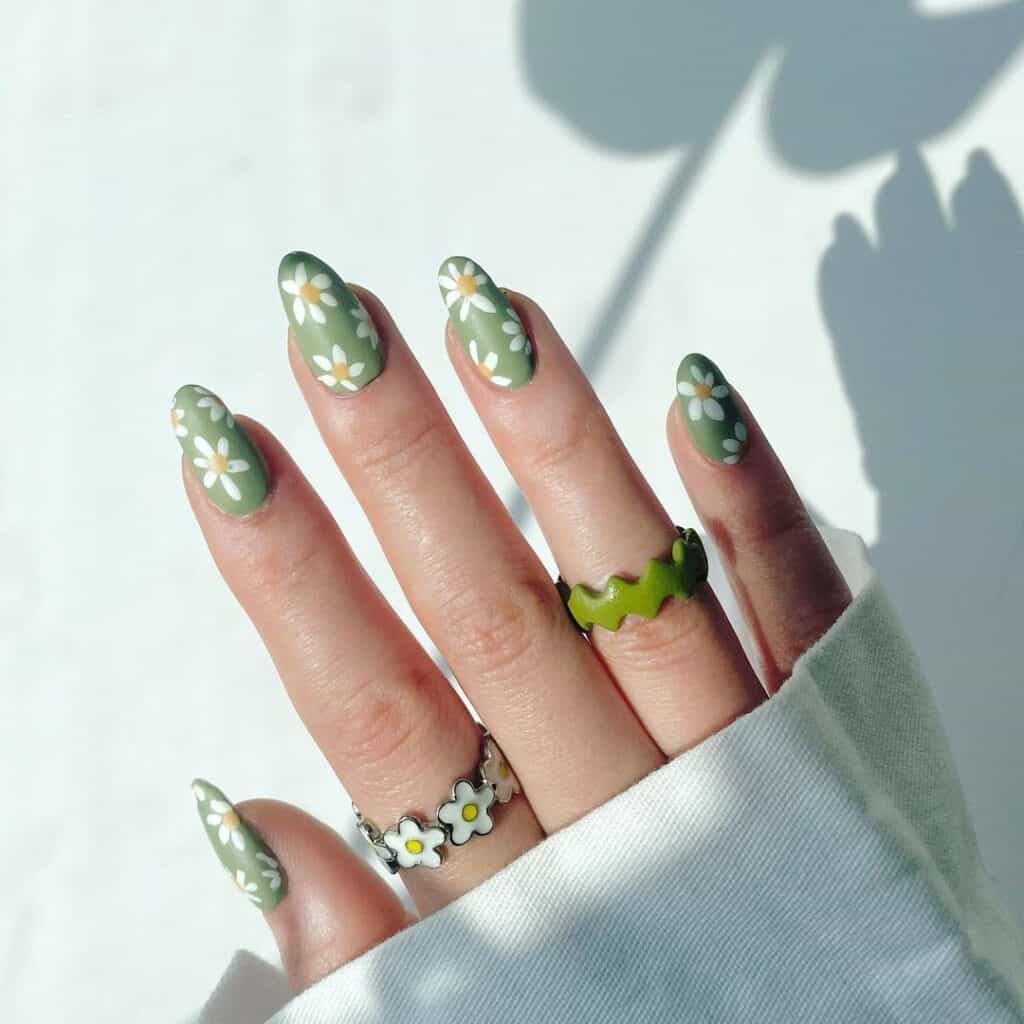 One of the most loved spring nail designs is this refreshing spring daisies nail art.
You can't go wrong with a matte spring nail art finish and a handpaint daisies.
Honestly, I'm obsessed with this spring nail idea as it's absolutely worth recreating.
11. Pastel Lilac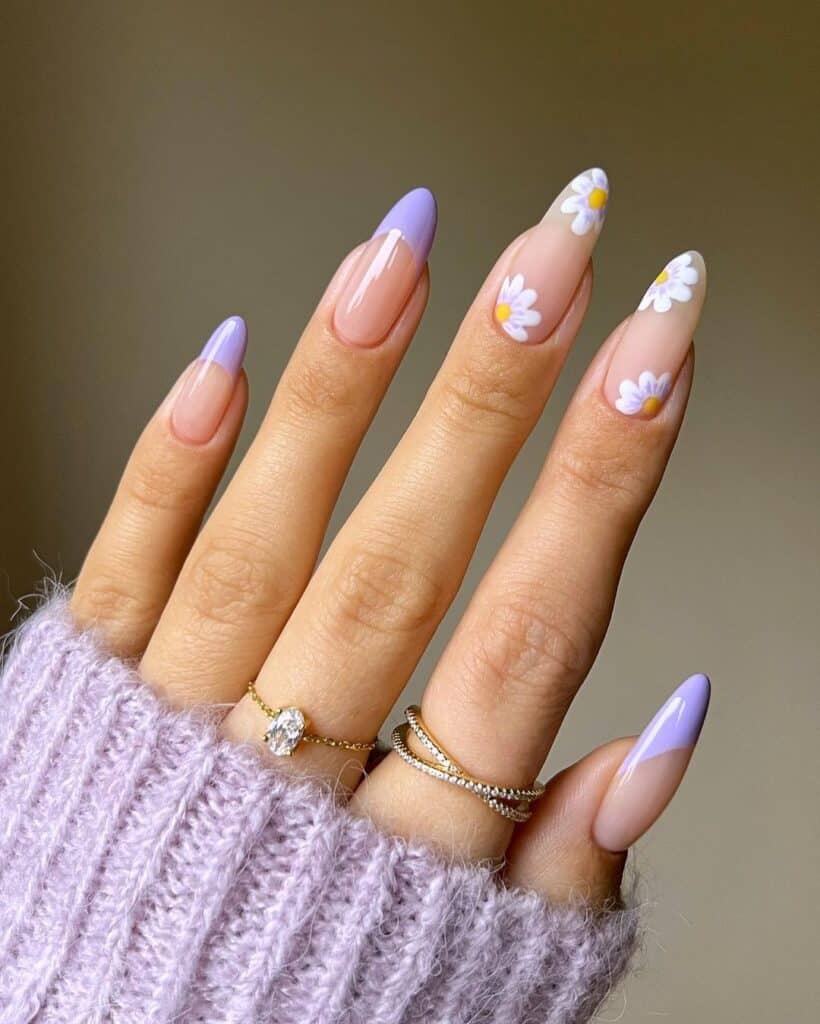 This Spring nail idea combines the best of both worlds: adorable flowers and gorgeous French tips, purple style.
If you want to create a classy, high level spring nail design, we highly recommend going for these spring nails because they will upgrade your spring look and you'll get compliments about them all time.
12. Minty Nails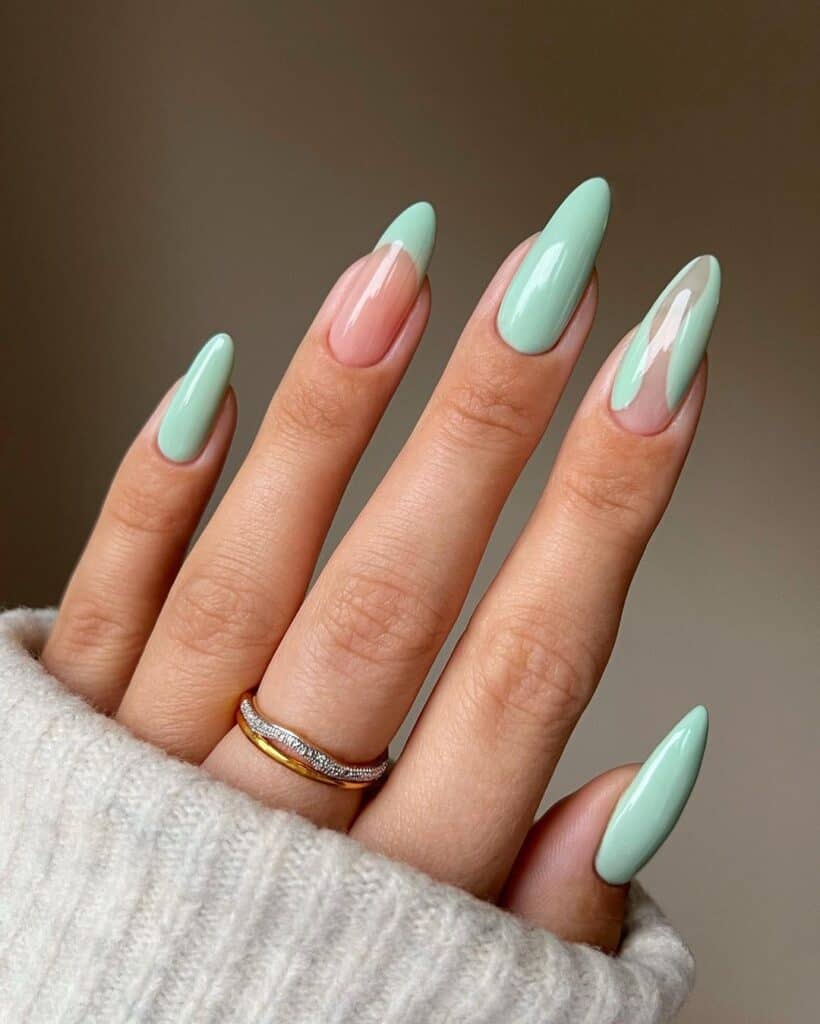 These nails are ideal for paying homage to the freshness of Spring without stepping into "striking" territory.
In fact, I think they're even slightly minimalist and pastel though I'm sure some would disagree. Either way, they're stunning, and that's all that matters, right?
13. Pastel Colors Block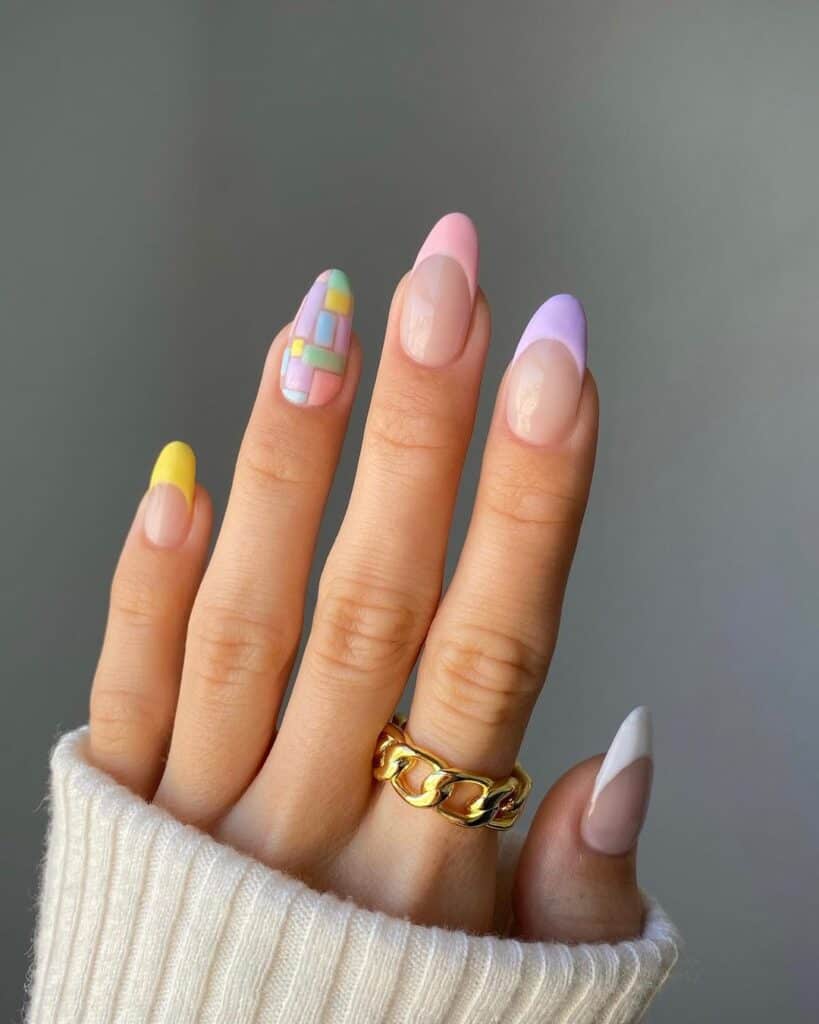 I'm a huge fan of color block always, but I'm a devotee when it comes to this creative spring nails idea.
It's playful, laid-back, and can actually be worn all year round; what's not to like? While the multi-colored tips will come easy, the patchwork accent nail may take some extra and very worthwhile work.
14. Flowers to Cheer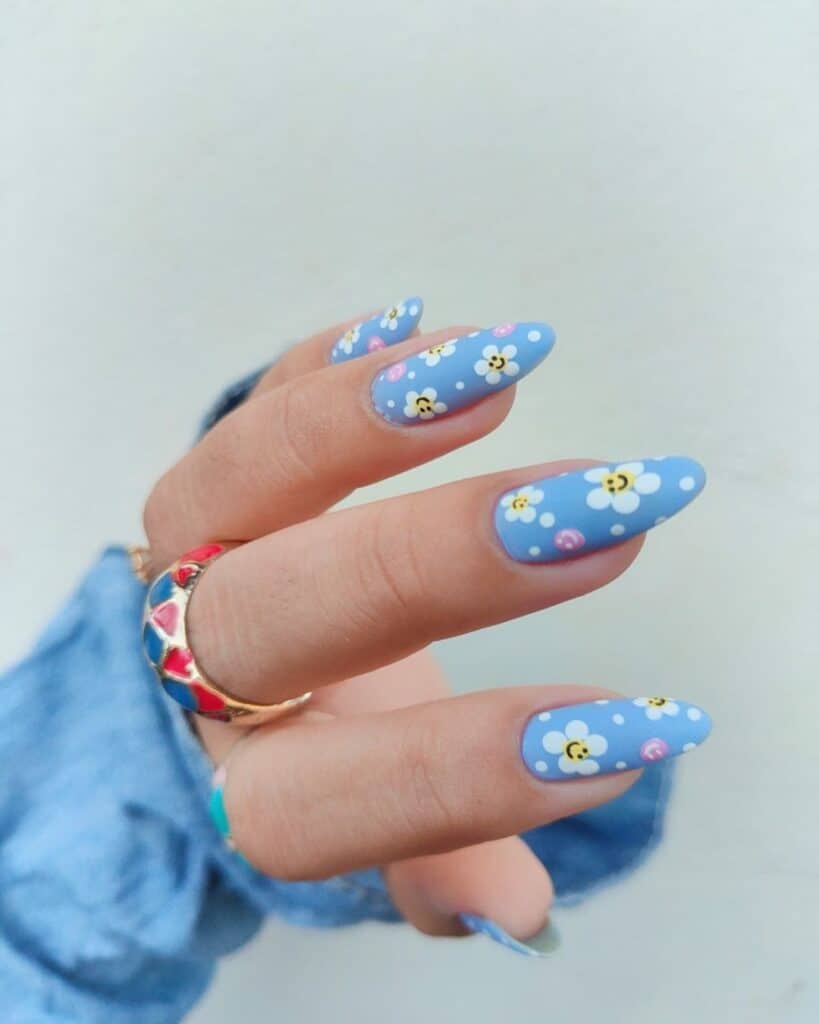 It's hard not to smile when you see these heart-warming nails that are full of the airy, laid-back vibes that Spring is loved for.
15. Blue is Life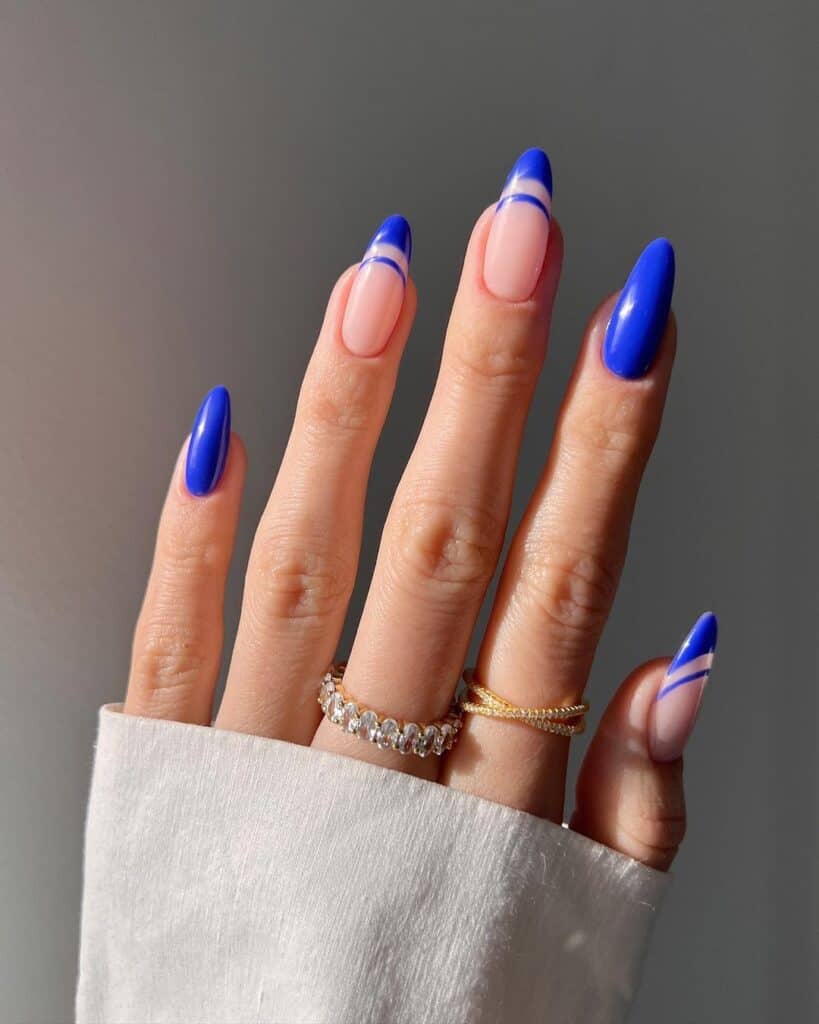 We're moving into elegant and sophisticated territory with these chic Spring nails.
The classic French tip is underlined with an easy-to-replicate line that's joined by two full-colored blue nails in this easy DIY Spring-time manicure.
16. Lilac Spring
We haven't seen much of Lilac lately, and that can only mean one thing: it's going to be back and bigger than ever this Spring time (as per.)
So, get ahead of the trend and start practicing this "hard the first time but easy to master" Spring-inspired manicure.
17. Diamond Of The First Water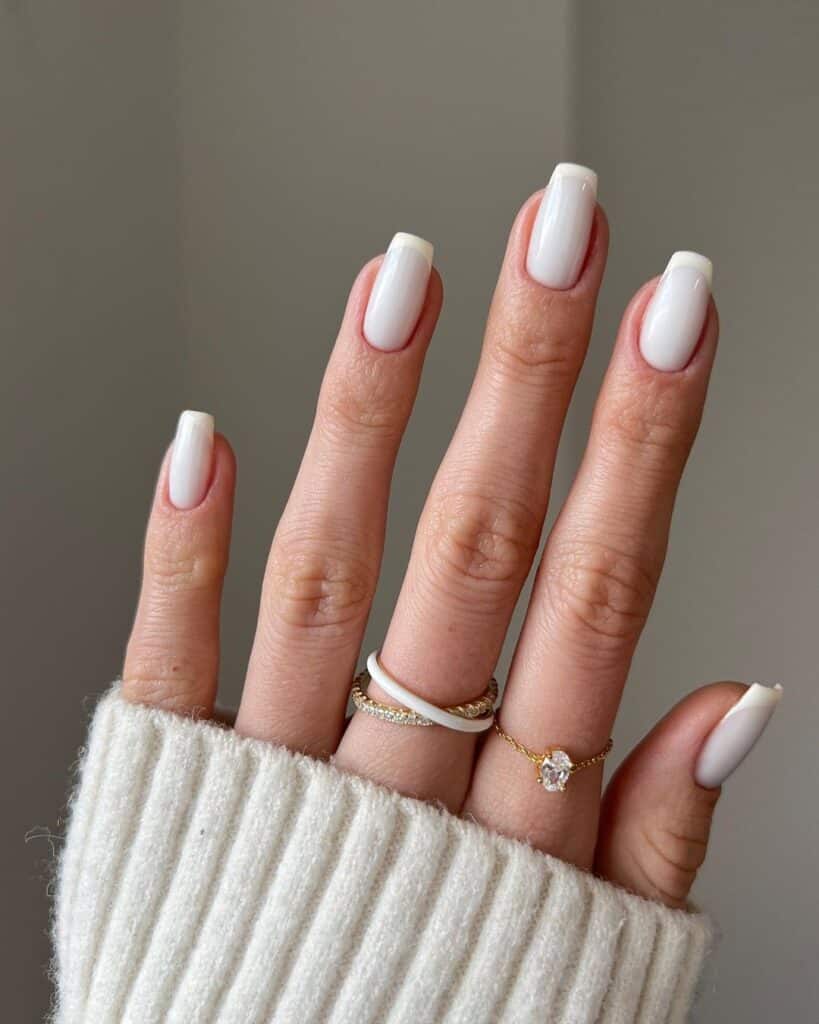 If you're looking for something a little more understated and elegant this Spring, I recommend these creamy while, almost milky nails that have the faintest hint of French tip for a uniquely intriguing look.
18. Blossom Nails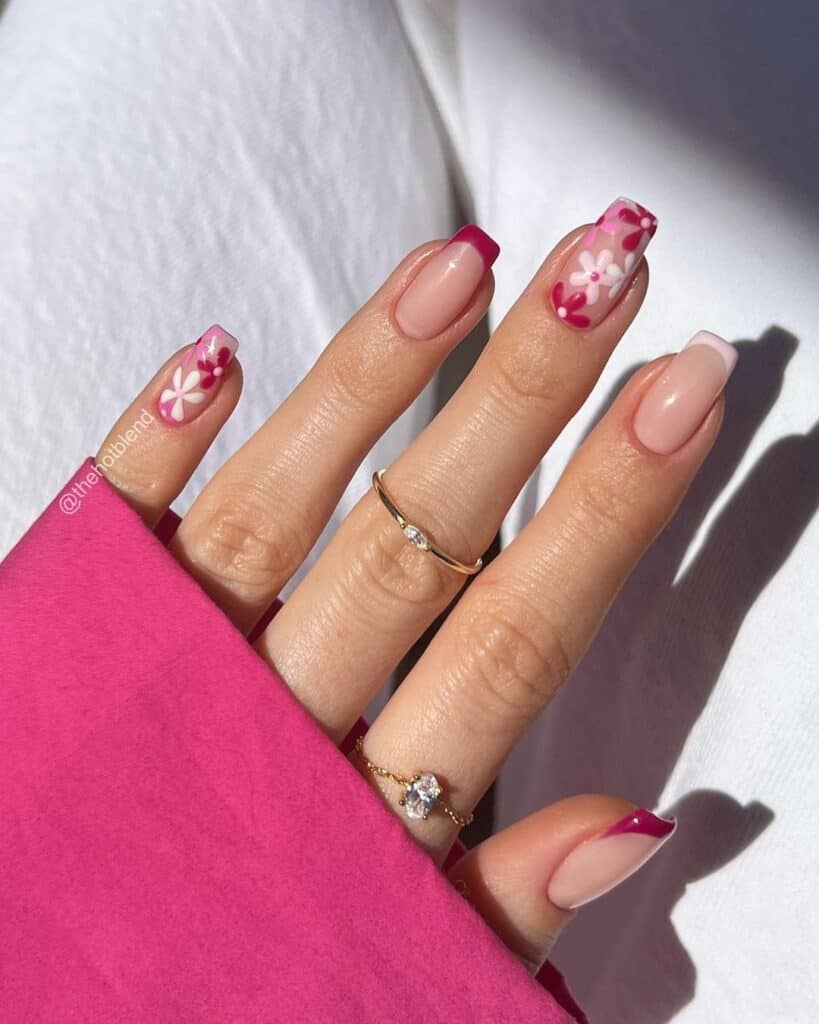 There's something a little funky about these floral-inspired nails but in a good, chic, and stylish way. Bringing both French tips and flower motif nails together, it doesn't really get much more Springtime beauty than this.
19. Soft Textures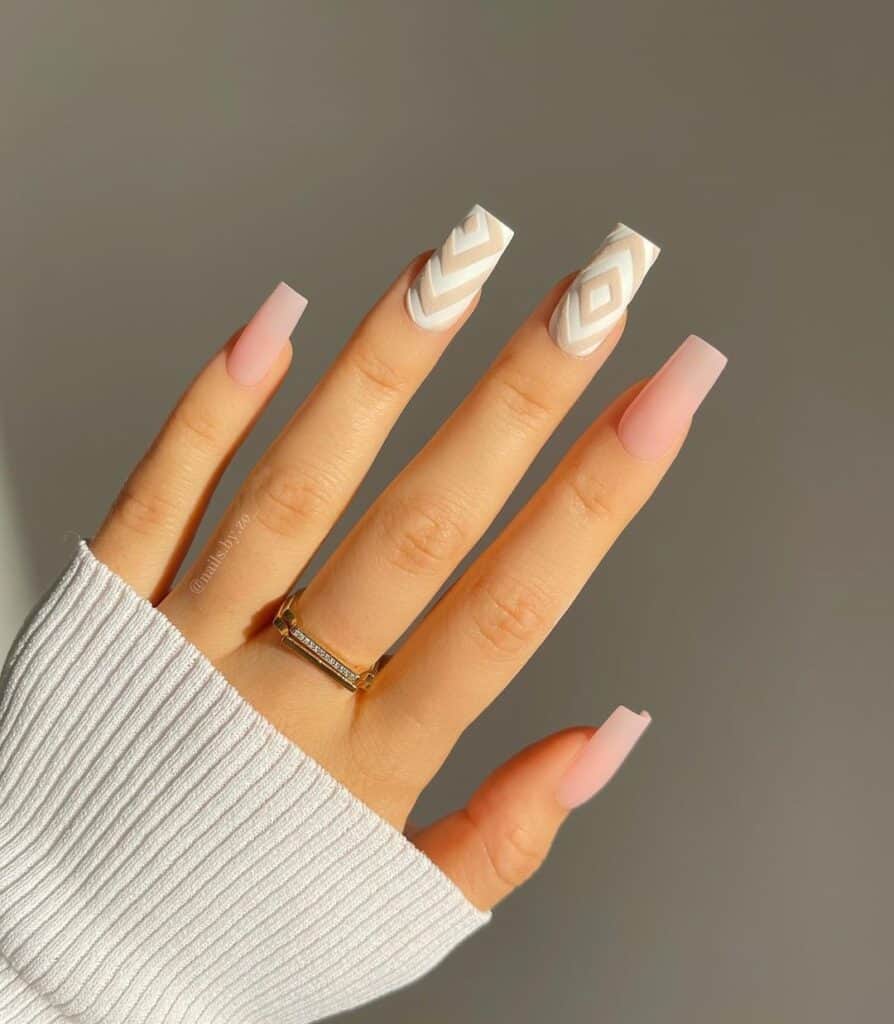 These charming nails simply make my heart melt. With their exciting textures and fun patterns alongside faint pastel nails, I can't help but think this Spring manicure is ideal for the gal who wants something a little extra this year.
20. Purple Spring Nails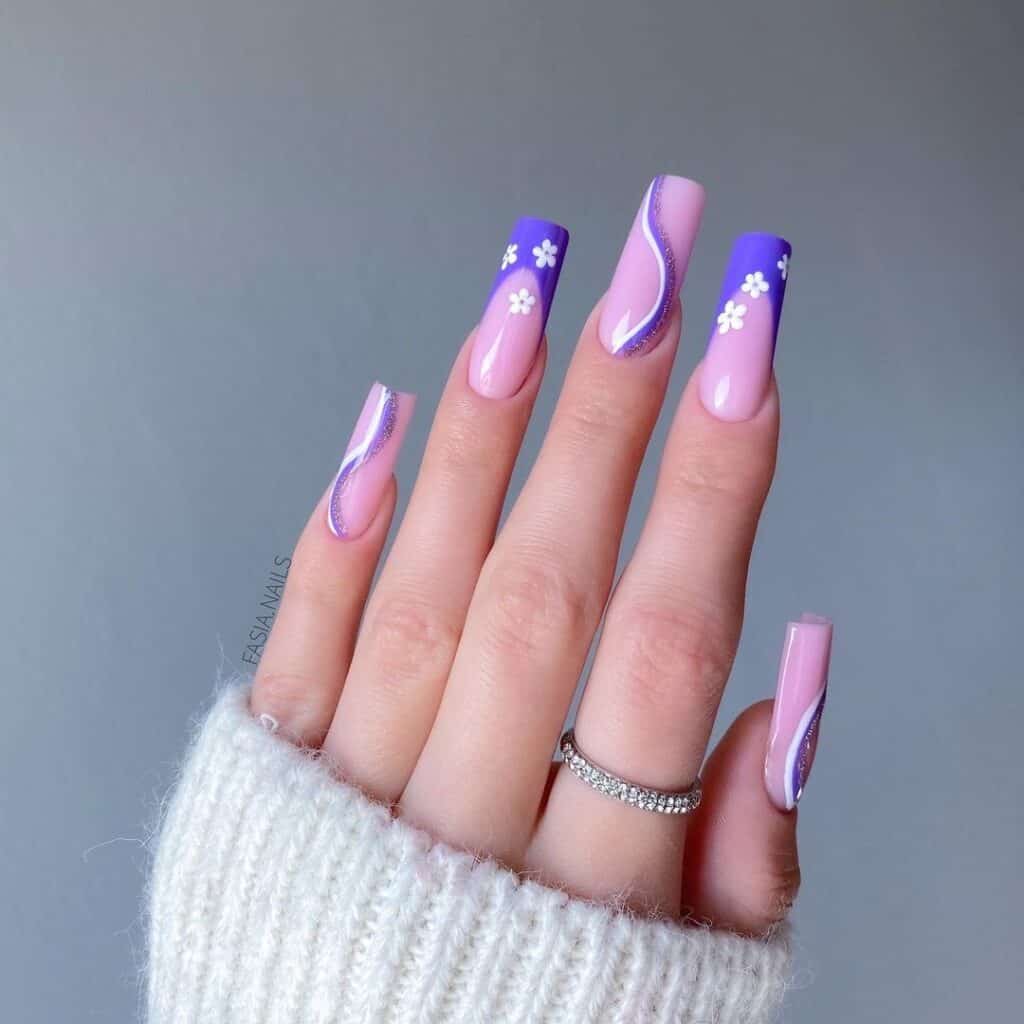 These Spring nails were just made for the girly girls among you who enjoy cover-ready, Instagram-worthy, and springtime-inspired nails.
21. Simple Spring Nails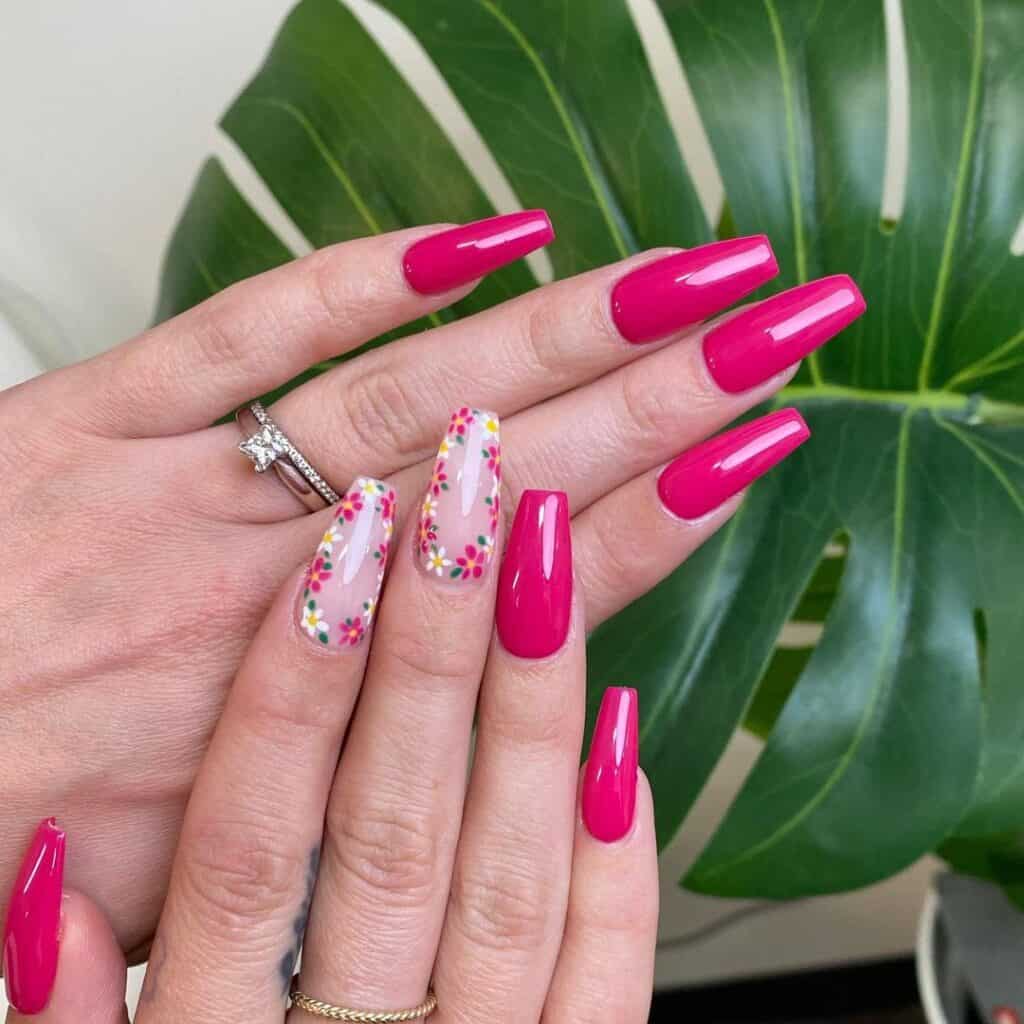 In a rush this Springtime? No need to worry. You can still enjoy nails that look like they took a lot of work for a fraction of the effort. Case in point just above.
Paint one hand as normal with a rich, almost pink, nail polish before doing almost the same thing to the other hand, instead leaving two nails for an intricate floral design that can be achieved with a toothpick and multiple nail polish colors!
22. Lemon Sorbet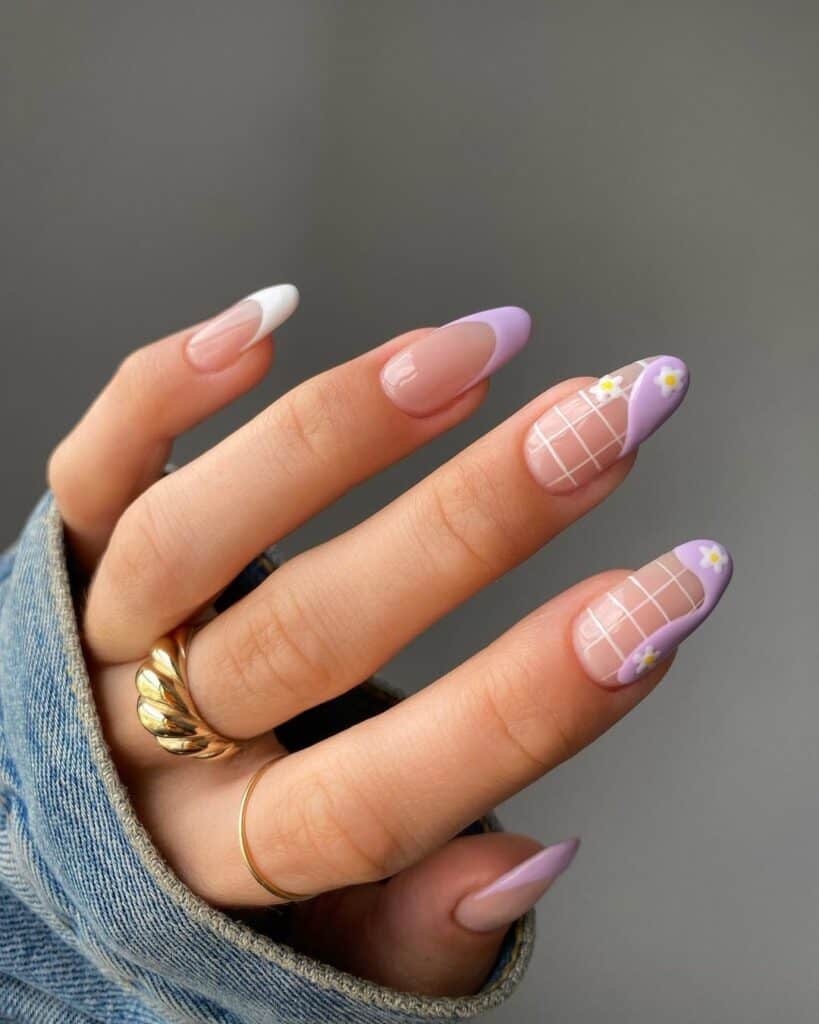 These spring nails are perfect for impressing pretty much everyone who lays eyes on them before shocking them with, "Oh yeah, I did them myself."
They really are deceptively easy to replicate. After all, it's straight lines, alternative French tips, and little flowers. Maybe not for the novice, but definitely for the intermediate nail artist.
23. CareBears Nails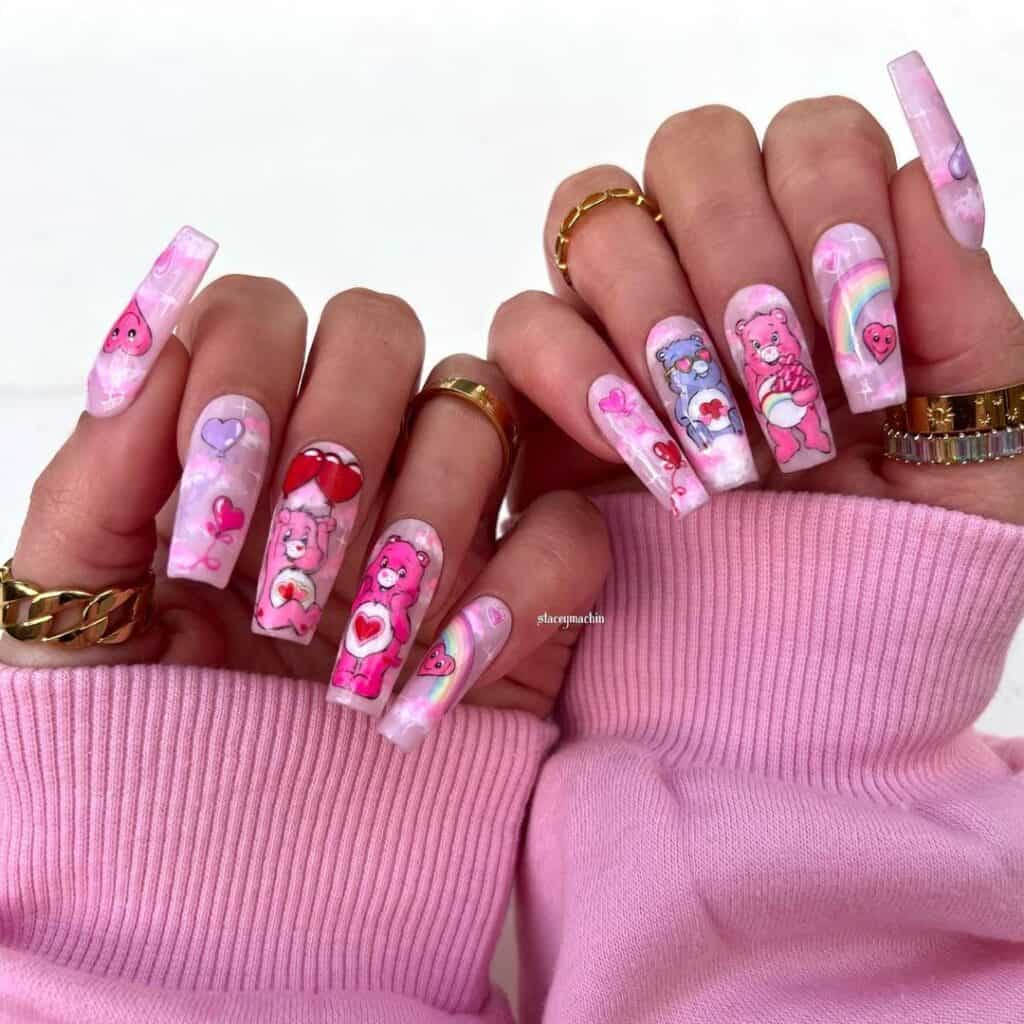 Sugar, sweet, adorable, quirky, and dazzling colorful are just some of the words that come to mind while looking at this full set of CareBear nails.
Just like Spring, they're a fresh, bright look, but I recommend taking this one to your nail technician to really enjoy the full look in all its glory!
24. Green Spring Nails
Mixing neon green tips with a delicate daisy near the cuticle makes for a striking look that wouldn't look out of place in the club come this Spring.
25. Shades of Blue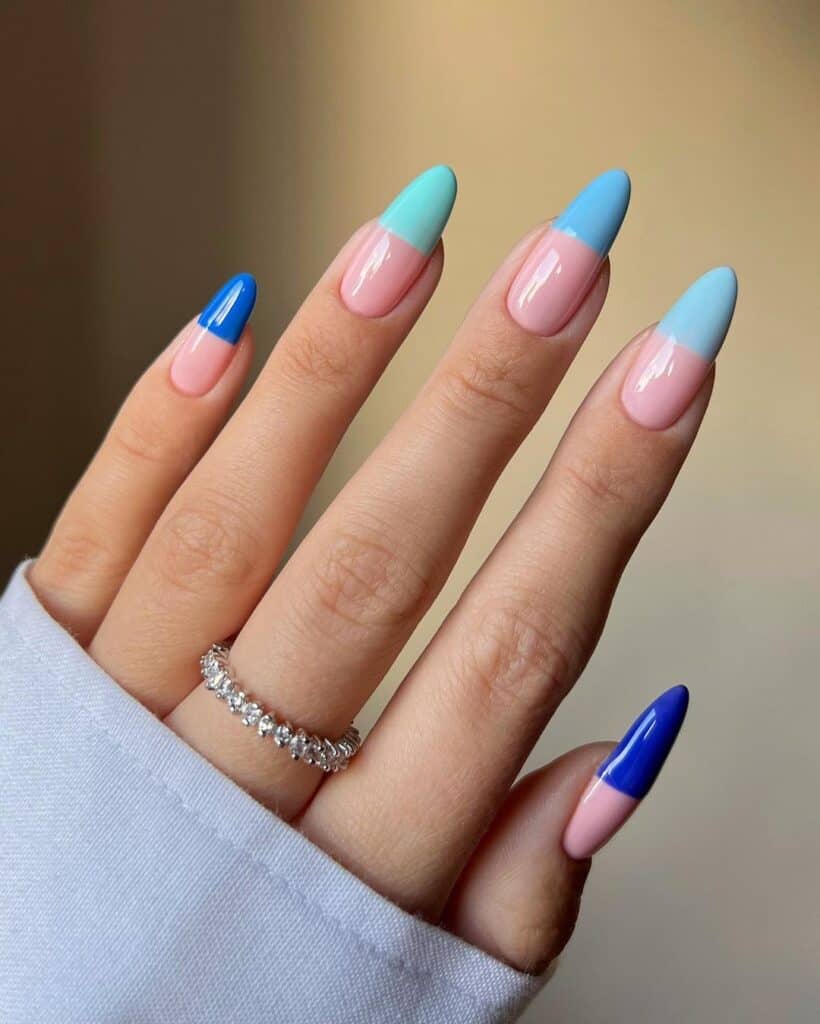 If you're not the biggest fan of bright colors but still want to get in on the Spring nails fun – here is the ideal manicure for you that looks as good as it is easy to replicate.
26. Feeling Tropical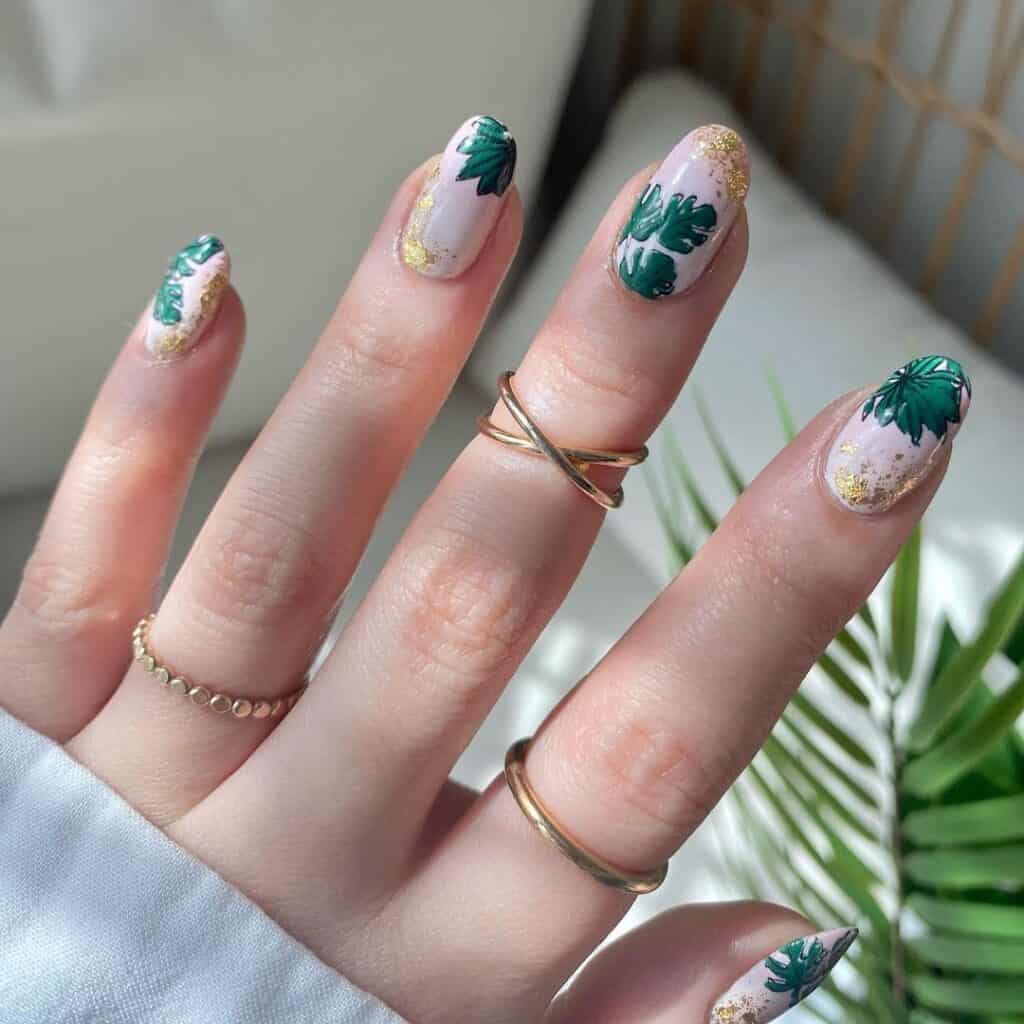 I've never seen nails like these before, and if I'm being honest, I don't even know where I'd start while taking them on. That said, they're utterly gorgeous, and I'm tempted to claim them as my own come this Spring.
27. Spring Floral Nails
These nails are undeniably loaded with chic 60s vines with overtones of funky-fresh flowers, underpinned by a primary color, color block base that's as fun as it is fashionable.
28. Midweek Blues Nails
For when you need a little pick-me-up, these nails are just the uplifting addition to your springtime look. They're cute, casual, and even a little bit elegant for that all-around trendy appeal.
29. Manifesting Spring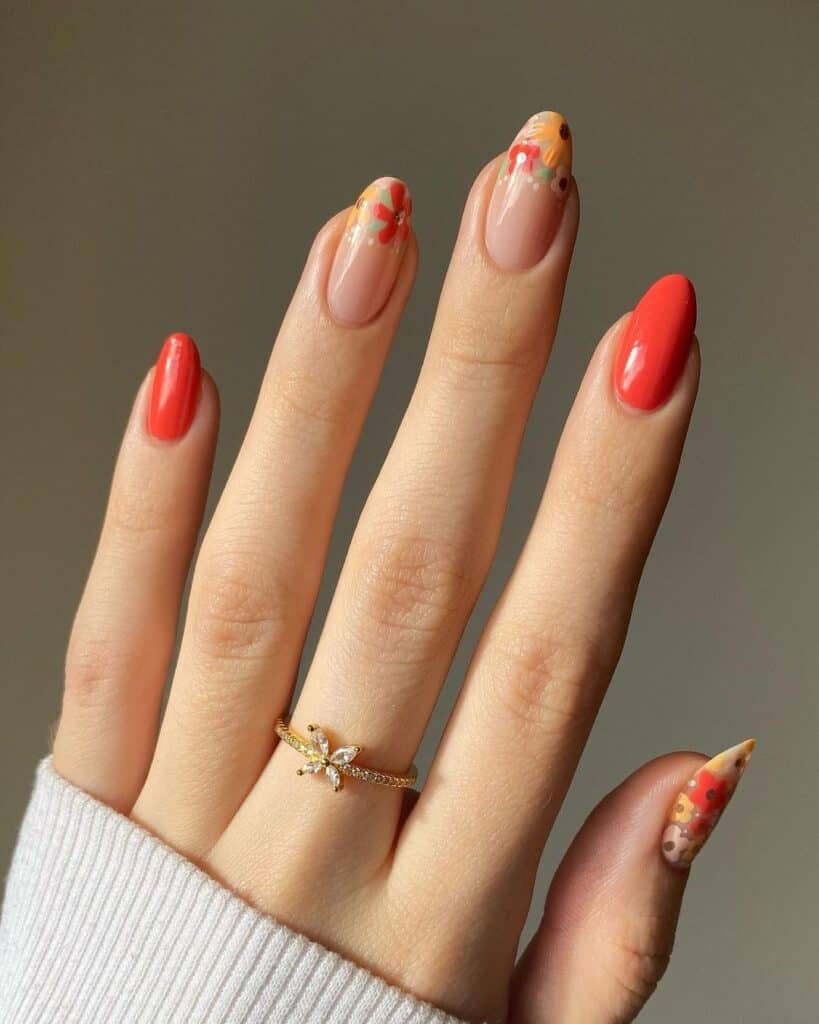 If you're super excited about Spring, these are the perfect nails for you. Hints of glamour are mixed with elegance for an entirely warm look that's oh-so-pleasing to the eye.
30. Negative Space Florals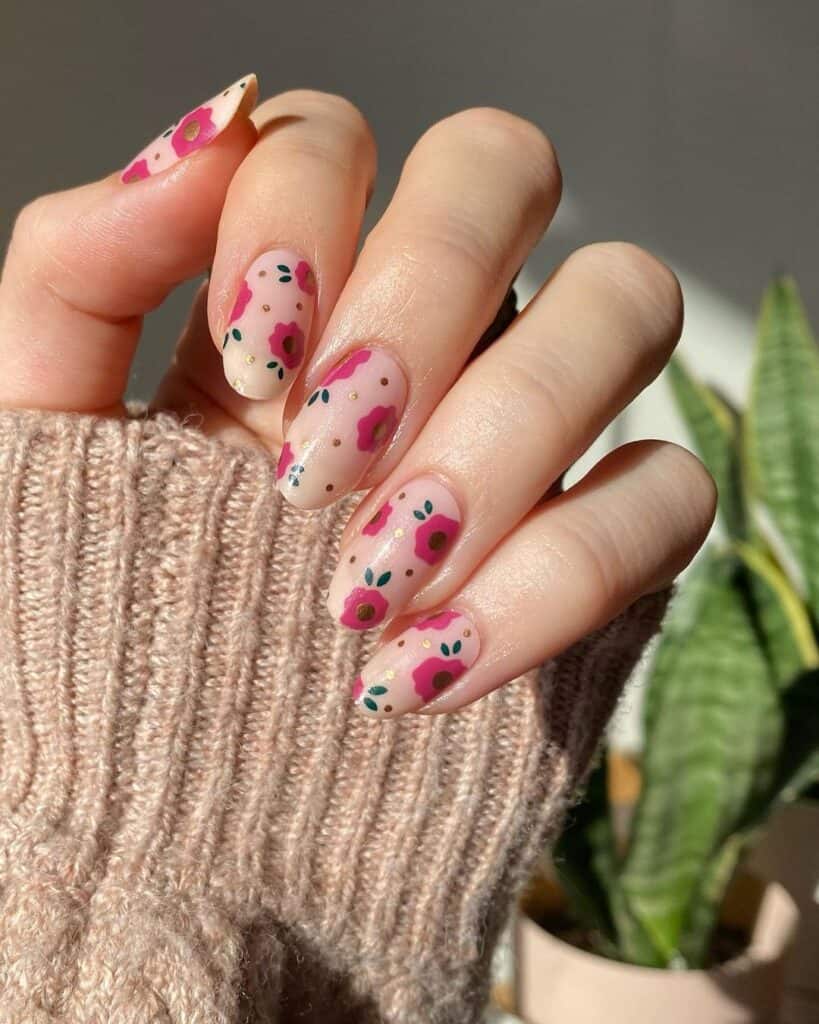 You don't always have to dedicate to full coverage. Instead, you can use your natural nails as a blank canvas upon which to get creative just like these gorgeous negative space spring nails that just happen to be right-on-trend.